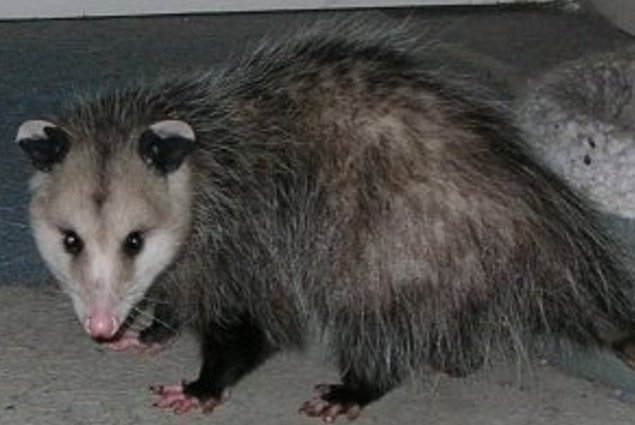 Opossums dig up our lawns and flower beds. They tear off siding, and enter out houses either through opens they have made themselves, or ones that the builder left open. Their main diet consists of grubs, rodents, trash, love to eat bugs, and insects. The fleas and ticks they harbor, carry harmful parasites and disease. They tend to make homes in our attics and leave a large amount of urine, feces, and left over meals. These creatures have a pouch much like he kangaroo. And once the little ones are born, the grip onto moms fur and make their way to the pouch to nurse.
At "SPEEDY ANIMAL CONTROL" we strive to quickly capture and remove the nuisance Opossums in the city of San Diego and surounding areas. Captured Opossums are humanely released in approved areas far from their capture sites, or euthanized in a humane manner as the situation dictates. All trapping is done in accordance with local, state, and federal laws. We humanely capture and remove most animals. Removal of these Opossums is a must, and should only be performed by trained and licensed professionals. In many cases, animals cause moderate to severe damage to property. Preventative maintenance is highly recommended to keep those pesky animals from returning.
---
Our San Diego Opossum Removal Service, may include trapping and the control of Opossums:
Inspection and Assessment
Setting the appropriate Trap (s)
Catching our Target Animals
Removal of the nuisance wildlife
Sanitizing and Decontaminating the Affected Area
If babies are caught, and the mother isn't, we take them to Project Wildlife, or the closest rehabilitation center and as soon as the mother is caught, we reunite them.
Repairs and or Preventative Maintenance may be needed to keep those pesky animals out, and are not typically included in this particular service. Your Damage Control Specialist will advise accordingly.
---
Speedy Animal Control works hard to bring peace of mind to both our customers and wildlife. Our Opossum Control and Removal Program is TOP NOTCH! We also perform other kinds of trapping services from animal control and removal to animal exclusions, repairs and odor removal. Our Damage Control Specialists cover most cities and counties from the Tijuana Border to Hollywood and beyond. If you would like to know whether or not we cover your area please feel free to Call 619-370-2761. And we would be happy to answer your questions.
Many animals contain parasites, diseases, and pose health risks. If they are in, or around your home, your health may be adversely affected. Removal of these wild animals must be done, dead or alive, and should only be performed by trained and licensed professionals.
---
Call Now and in most cases we can have an Damage Control Operator out to you the same day! Feel safe again in no time.
---
Business Hours:
Monday - Sunday: 7:00 am - 3:00 pm Open 7 days a week!

SPEEDY ANIMAL CONTROL
SAN DIEGO, CA.